HOME > Greeting
Institute of Industrial Science, The University of Tokyo (UTokyo-IIS) and Hitachi, Ltd (Hitachi). jointly set up "Big Data Value Co-creation Platform Engineering" social cooperation program on April 1, 2022.
By combining the great experience of UTokyo-IIS and Hitachi and applying their cutting-edge data platform technology, the social cooperation program aims to offer tangible solutions to social problems and to contribute to achieving a sustainable society.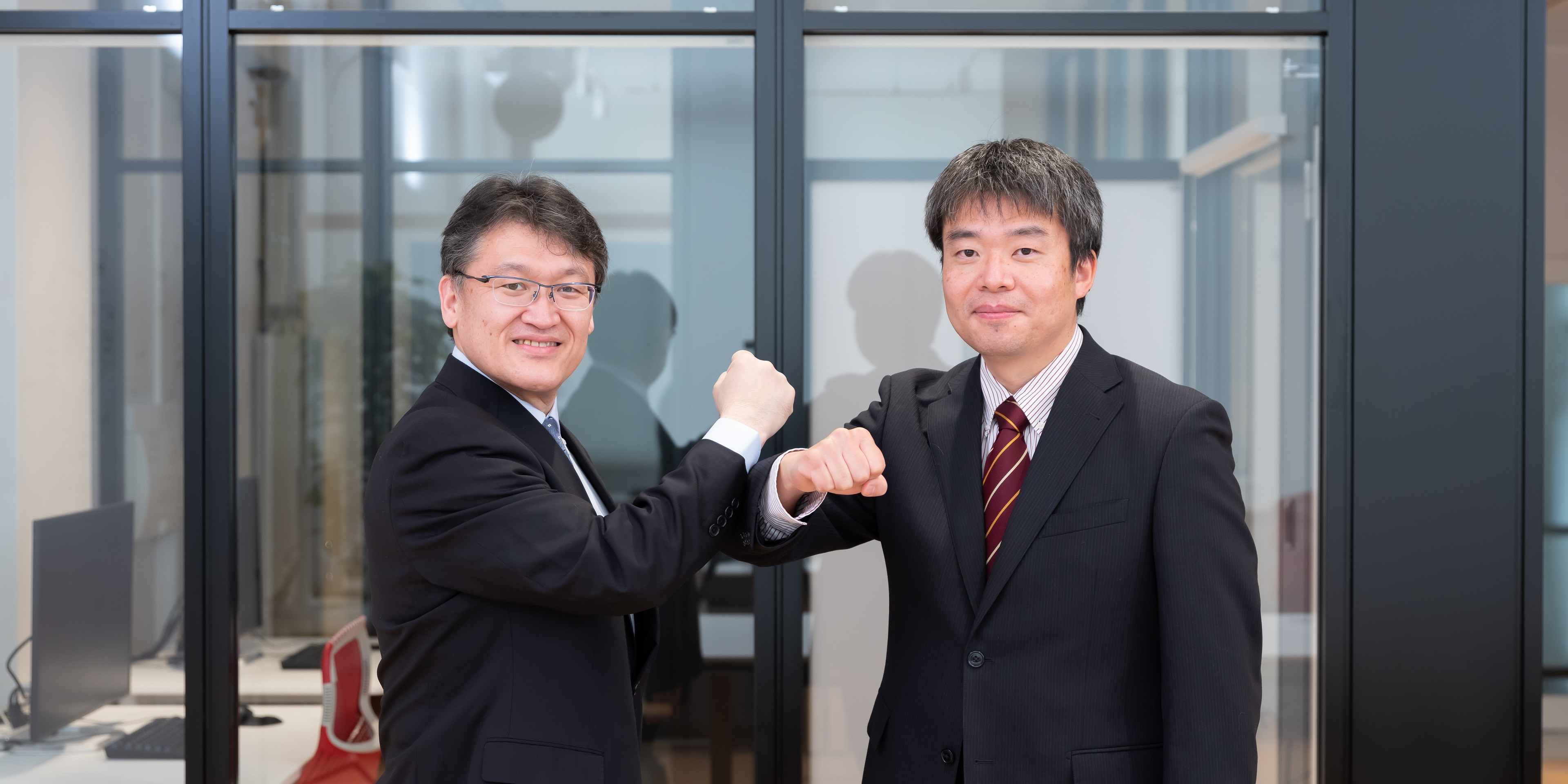 Norihiro Hara, Senior Chief Engineer of Hitachi (left) and Kazuo Goda, Associate Professor of UTokyo-IIS (right); they briefly removed their masks for the photographer.
Toward achieving a sustainable society for happy and affluent life, Hitachi has promoted a digital solutions business called "Lumada" with its customers and partners; the aim is to create value from data by exploiting advanced digital technology, such as artificial intelligence.
We are witnessing the digital transformation of daily life, society, and economy. Many human activities are being transformed to data, and that process has the strong potential to make people's lives more sophisticated as well as help develop new industries. The key drivers here are the processing capability to analyze data precisely and having a social framework to enhance the capability.
The social cooperation program aims to establish powerful data platform technology, which allows in-depth analysis of the large-scale data being generated globally. The program also performs practical case studies to offer solutions to real-world problems, particularly in industry.
Norihiro Hara
Hitachi, Ltd., Senior Chief Engineer
UTokyo-IIS has established social cooperation programs using financial resources from private enterprises to conduct research with partners that has high public interest. Directed at specific research fields, these social cooperation programs have helped the development of new interdisciplinary studies as well as the promotion of conventional ones.
Since April 2021, UTokyo-IIS and Hitachi have conducted collaborative research: Application of Out-of-Order Execution Principle to Sophisticate Big Data Analytics. Both have carried on an open innovation program --Value Co-creation Program Utilizing Big Data-- to drive value co-creation in partnership with enterprises and organizations working with big data.
In creating the new social cooperation program, UTokyo-IIS and Hitachi have extended their open innovation program to explore informatics and conduct research and development toward offering solutions to social problems.
Kazuo Goda
The University of Tokyo, Associate Professor